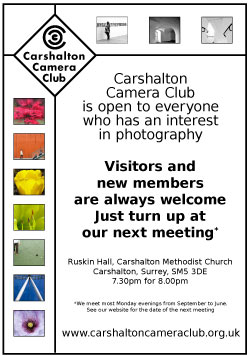 Our aims are to promote interest and active participation in all aspects of still photography, and to arrange a weekly programme of events covering competitions, lectures, practical evenings, demonstrations, and audio-visual sequences etc.
Our members produce their work using computer imaging, traditional darkroom techniques, and commercial laboratories.
Membership is open to anyone interested in photography; for all ages and all standards
Visitors are always welcome.
We meet on Mondays from September to June (except Bank Holidays) at

Lower Park Hall
Carshalton Methodist Church
Ruskin Road
Carshalton
Surrey
SM5 3DE
All meeting start at 8.00pm. Doors open at 7.35pm.
See Programme for more details.